Study: Eliminating GRE in Admissions Drives Diversity
By Kyra Newman
Eliminating the requirement of the standardized GRE (Graduate Record Exam) test and shifting to more holistic admissions review process is helping to diversify the pool of students entering the VCU Doctor of Nurse Anesthesia Practice (DNAP) program.
But could it benefit all graduate programs – not merely nurse anesthesia?
That shift is supported by a review of the literature that analyzed the impact of the GRE, typically required for entry into graduate school, on nurse anesthesia admissions. The study team, which included VCU Nurse Anesthesia faculty, resulted in recommendations for all programs to remove the GRE and expand practices that better gauge a student's potential for success.
As implemented at VCU, holistic review processes include consideration of academic accomplishments, diverse experiences and individual attributes.
"Our publication argued that the GRE doesn't test for the skills and knowledge required to be a successful nurse anesthetist. Marginalized nurses are directly and adversely impacted by mandated GRE exams, and many are not invited for an interview based on this one criterion," said Jiale "Gary" Hu, PhD, RN, FAAN, assistant professor and director of research and global outreach at VCU Nurse Anesthesia. "GRE minimum scores as a criterion for admission denial or acceptance may powerfully contribute to cohorts lacking diversity."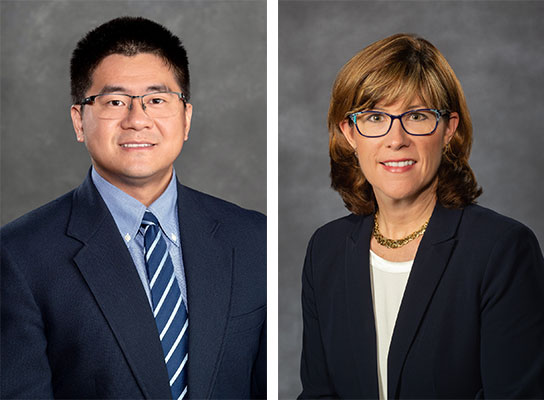 Jiale Gary Hu (left) and Nicole Damico (right)
Hu and Nicole Damico, PhD, CRNA, CHSE, FAANA, chair of the VCU Department of Nurse Anesthesia, are among the co-authors of "Addressing Structural and Systemic Barriers in Nurse Anesthesia Programs: Recommendations to eliminate the GRE and adopt holistic admissions," recently published in Nursing Outlook. Colleagues from Duke University, the University of Alabama at Birmingham and the Diversity in Nurse Anesthesia Mentorship Program joined them in researching and writing the journal article.
Ranked as the No. 1 graduate program in nurse anesthesia by U.S. News & World Report, VCU Nurse Anesthesia strongly promotes holistic admission review and is conducting multiple research projects on the GRE-removal initiative. The Department removed the GRE from admissions requirements in 2021, with first-time Nursing Certification Examination (NCE) pass rates registering at 91%. In the first admission application cycle following this change, there was a 40% increase in the overall number of applications to the DNAP program at VCU, and the program enrolled its largest cohort to date.
The researchers pinpointed three barriers created by the GRE requirement:
GRE scores have stronger correlations with race, gender, and socioeconomic status than academic performance and prediction of future career success.
Many students from marginalized populations lack access to the test for reasons including high costs associated with the GRE preparation, study, and testing, inconvenient testing locations and time, as they often are balancing multiple jobs or lack reliable transportation.
The GRE guideline also strongly suggests using multiple sources of information from students rather than GRE minimum scores during the admission decision-making
Currently, among the nation's 59,000 CRNAs, less than 12% identify as Black, Hispanic, Asian/Pacific Islanders or Native Americans. "The lack of diverse anesthesia professionals may contribute towards health disparities, racial biases in pain management, and inadequate pain management services in communities of color," the paper states.
"The GRE is a barrier for applicants who don't even consider any program that requires that test. But removing that test is only part of an effective strategy to broaden diversity in our profession," said Damico, also the Herbert T. Watson Endowed Professor. "At VCU, we're augmenting this recent shift in our admissions practices with greater outreach to meet these prospective students where they are."
Damico and Wallena Gould, first author of the journal article and founder of the Diversity in Nurse Anesthesia Mentorship Program, as well as co-author Edwin Aroke will present the research and findings at the American Association of Nurse Anesthesiology Assembly of Didactic and Clinical Educators on Feb. 25.