MSNBC/NBC News Journalist Lui Encourages College of Health Professions Students to Lead with Eyes on Inclusivity, Compassion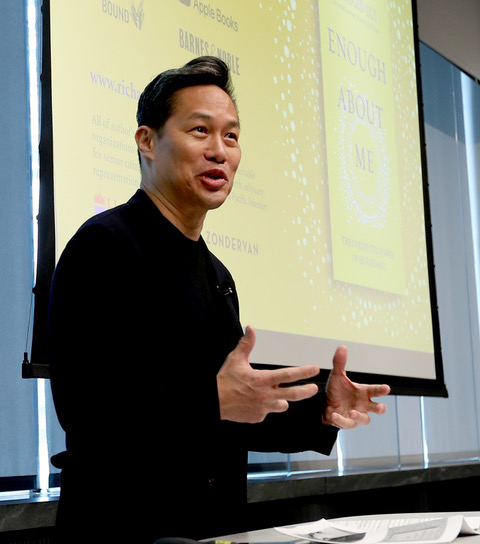 Richard Lui has been on national TV for 15 years. And it took him a while to get comfortable with that.
Perhaps it is due to the fact viewers paid more attention to the color of his skin, or the way he looked: He's the first Asian American man to anchor a daily national cable news program.
For a long time, Lui second-guessed himself: "Am I smart enough? Am I doing the right thing? Is it what I'm wearing?" Maybe he'd change his voice to sound more like previous generations of older white anchors.
"I was questioning everything at the beginning of my career 15 years ago. And I felt I was always behind because of that," he told a group of about 100 students and faculty in April at the VCU College of Health Professions. The news industry, he said, wasn't looking for Asian Americans when he started in the business. "There is no call from the corner offices of the network saying, 'Hey, you know, we really need [an Asian American person on our channel].' And that is why I've depended on not waiting for that call, but instead, I know I have to make that call myself. I've got to do it. We must all make that call together."
It was that message — advocating for equality and inclusivity not only in the news business, but in healthcare and in society at large — that Lui, an award-winning journalist for MSNBC and NBC News, shared with students and faculty mostly from the College's Department of Health Administration.
In a series of examples, Lui encouraged the nation's future healthcare leaders to build teams with clinical providers and leaders who look like and share similar lived experiences as the people in the communities they serve, and develop creative ways to ensure care is equitable to all by reaching out to patients. Compared to the overall U.S. population, healthcare providers who identify as Black, Asian, or Hispanic represent a small portion of the doctors, nurses, and leaders in clinical settings. It's widely accepted that leaders and clinicians who share experiences and backgrounds with their patients play an essential role in reducing health disparities and improving the patient experience.
"Closing that gap is a collective effort across all of our communities," Lui said. "We know that outcomes are improved when we increase [the diversity of] the faces in healthcare."
Lui's talk comes as the Department of Health Administration has placed a top priority on incorporating inclusive leadership into its programs and curricula.
Lui recalled a story of the HIV/AIDS crisis in San Francisco. In 1983, the overwhelmed San Francisco General Hospital set up ward 5B for AIDS patients — mostly gay men, many of whom had been ostracized from their families. They were sick, dying, and alone.
But nurses of many backgrounds, and many of them also in the LGBTQ community, stepped in to help and provide patients with compassionate care — even if it meant risking their own lives, as no one fully understood how the sexually transmitted virus spread at that time.
"Those caregivers in 5B had a different perspective on how to care for people. They knew they weren't there to bring patients back to health or to life," Lui said. So the nurses broke protocol: They held patients' hands without gloves, rubbed the patients' foreheads, even crawled into beds to give them comfort."
Lui noted the media failed at accurately telling the story of AIDS in the early years of the epidemic, in particular by not getting close enough to the community suffering from the virus due to fear or gay stereotypes at the time.
"That story is a story of failure to me, because we didn't get it right as journalists. So those healthcare workers were the ones who were telling the stories of those ignored groups," Lui said. "And they were of all different backgrounds…of color, of different gender identities, of different orientations."
Lui also drew a comparison of journalism to healthcare and showed why having reporters — or healthcare providers and leaders — with backgrounds that reflect the communities they serve is so important. On March 16, 2021, a shooter killed eight people, including six Asian women, at spa parlors in Atlanta. Lui called it "a dark day" for the Asian American Pacific islander (AAPI) community.
Lui covered the spa shootings, which came after a year of thousands of AAPI hate and harassment incidents as a result of the COVID-19 pandemic.
"It was a breathless moment. The [AAPI] community, me included, felt like we weren't human for that moment," he told the diverse room of students at VCU. "And perhaps many of you had those moments before. It's not a fun moment."
Typically journalists do not get involved in the story, he said, and simply report on what they see. But nearly immediately following the event, the Asian American Journalists Association broke rank and put out guidance to newsrooms nationwide to ensure reporters and editors got the story right and respected the victims. They explained how full names of the victims should be printed and pronounced, worked to make sure newsrooms did not perpetuate Asian stereotypes, and offered insights into the hyper-sexualization of AAPI women.
"If it weren't for [the AAPI community] being there to tell the story, to bring it home and say, 'This is wrong,' then we may not know about it," he said. "When we think about inclusion, and the dynamics around it, it does count that we have workers who look like those who we serve. It works."
Lui's late father, Stephen, died in December after an eight-year struggle against Alzheimer's disease. Richard has spoken publicly about setting aside his career to care for his father and family and recently published a book, Enough About Me, that documents his time as a caregiver and offers tools to find meaning and compassion in everyday choices.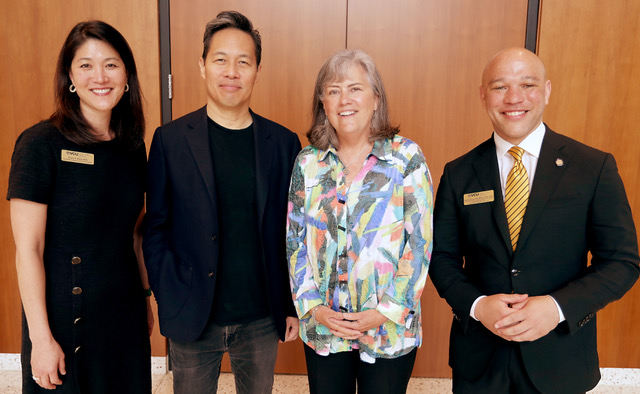 That same month, Lui interviewed U.S. Secretary of Health and Human Services Xavier Becerra, and was able to connect with him not only as a journalist, but as a fellow caregiver — both are one of 53 million people who serve as caregivers (in Becerra's case, both his mother and father). Becerra and Lui shared their personal stories as they discussed nation's plan to address Alzheimer's and dementia care.
"I am grateful for the Secretary to come forward to share that, because I think he probably helped two or three caregivers across the country say, 'I gotta take care of myself. This isn't easy. It's okay. I can say that word: I am a caregiver.'"
As his dad's caregiver, Lui noted that while he is not a healthcare provider, "I am an expert in my father." Whenever they visited a doctor or ER, Lui and his family could clearly explain to providers what was happening with his dad.
And it's important to advocate for yourself or others who cannot speak for themselves, he said, because "I cannot expect any healthcare professional will be a walking encyclopedia." That's especially true, Lui said, in advocating for patients of color. "We're all leaning in to understand these layers of what it means to be a person of color — as a journalist, as well as in healthcare," he said.
Finally, he encouraged students to go to "No Go Zones" — whether those communities are figurative or literal, but places where society believes one should not visit or discuss.
"I must continue in my work to go to No Go Zones. And all of us need to do that. We must always go towards what we think might be No Go: either an idea, a physicality, or an appearance," he said. And when a person goes to a No Go Zone and experiences another person's story, "you are now smarter for it, and you can tell their stories better, you can see other people's stories better."
View the Q&A portion of Richard Lui's talk with VCU College of Health Professions students.