Fostering research in a collaborative environment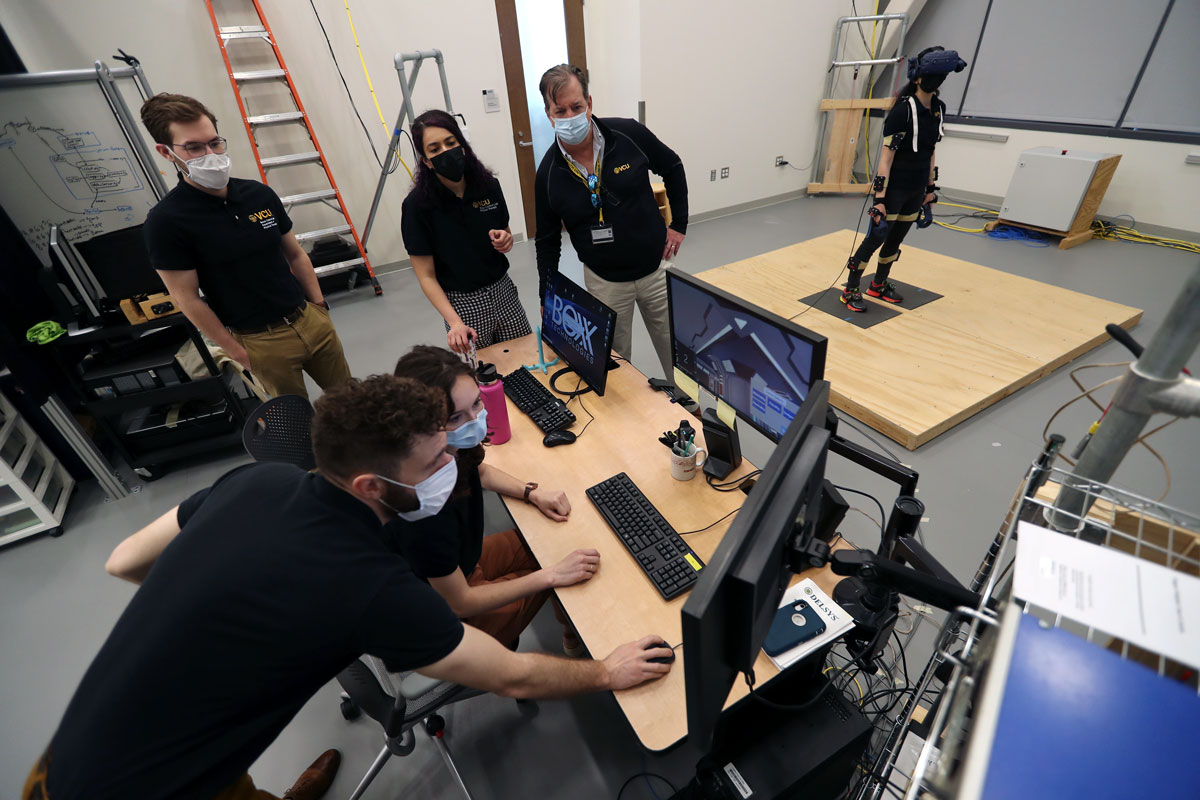 One of the top research universities in the state, the VCU College of Health Professions cultivates transformational research and innovation through collaborative partnerships, the university and with external stakeholders. Our efforts promote teaching and community engagement that impact health care delivery and health outcomes across Virginia and beyond.
Explore CHP Research. View faculty publications and grants by department.
Fiscal year 2024 to date, November 9, 2023: 22 funded proposals, 20 principal investigators, $4,544,802 in total award dollars

| Principal Investigator | Department | Project Title | Originating Sponsor | Proposed period of performance | Total amount of requested funding |
| --- | --- | --- | --- | --- | --- |
| Adam Atherly | Health Administration | Measuring the Impact of the Value Flower and Unobserved Heterogeneity on the Cost Effectiveness and Use of Novel Treatments for Alzheimer's Disease and Related Dementias | National Institute on Aging/NIH DHHS | 6/15/23 - 5/31/28 | $2,406,790 |
| Tanu Bhargava | Physical Therapy/sub with School of Education | IPA - Richmond VA | McGuire VA Medical Center | 5/1/2023 - 4/30/2025 | $3,750 |
| Shaaron Brown | Physical Therapy | General Movement Optimality Score as a Biomarker in Early Detection of Neurodevelopmental Disability in Extremely Preterm Infants | American Physical Therapy Association | 9/1/23 - 8/31/24 | $10,000 |
| Nathan Carroll | Health Administration | Implementation of Decision-Aid for Lupus in Practice Settings for Shared Decision-Making (SOM): IDEAL Study: 2021 Cost of Implementation Supplement | Subaward w/ University of Alabama at Birmingham - PCORI | 12/15/2021 - 12/14/2023 | $47,796 |
| Virginia Chu | Occupational Therapy | Predictive ability of early somatosensory processing in preterm children on later motor development | National Institutes of Child Health and Human Development/NIH/DHSS | 5/01/2023 - 4/30/2028 | $2,570,261 |
| Nicole Damico | Nurse Anesthesia | Nurse Anesthesia Traineeship | Health Resources and Services Administration/DHHS | 07/1/23 - 06/30/24 | $138,807 |
| Benjamin Darter | Physical Therapy | Exploring the impact of microprocessor-controlled knees on prosthesis awareness and overall health | Department of Defense | 07/01/22 - 06/30/25 | $1,971,886 |
| Benjamin Darter | Physical Therapy | Comparing the attentional demands and functional outcomes of pattern recognition and direct myoelectric control in people with transradial amputation | Department of Defense | 09/25/23 - 09/24/27 | $3,995,791 |
| Benjamin Darter | Physical Therapy | IPA- Richmond VA | McGuire VA Medical Center | 5/1/23 - 4/30/25 | $70,064 |
| Yonella Demars | Radiation Sciences | Pathways for Authentic Teaching of Health Sciences (PATHS) | Subproject with School of Education / National Institutes of Health | 07/01/22 - 06/30/27 | $42,637 |
| Tracey Gendron | Gerontology | Development of a Trauma-informed Care: Resilience and Well-Being Toolkit for Nursing Facilities | Virginia Department for Medical Assistance | 10/29/21 - 06/30/24 | $552,591 |
| Denise Hall | Rehabilitation Counseling | DBHDS Peer Recovery Project 2021-2022 | Virginia Department of Behavioral Health and Developmental Services | 10/25/21 - 01/31/23 | $197,312 |
| Carolyn Hawley | Rehabilitation Counseling | Virginia Partnership for Gaming & Gambling Services | Virginia Department of Behavioral Health and Developmental Services | 03/03/22 - 03/02/24 | $813,270 |
| Jiale Gary Hu | Nurse Anesthesia | Creating an Open Education Resource regarding Crisis Resource Management for Nurse Anesthesia Students and Medical Students | Virtual Library of Virginia (VIVA) | 07/01/21 - 06/30/24 | $22,500 |
| Jiale Gary Hu | Nurse Anesthesia | A mixed methods study to investigate nurse anesthetists? and anesthesiologists? implementation of crisis resource management | FULD (Helen) Health Fund | 05/01/21 04/30/23 | $5,000 |
| Jenny Inker | Gerontology | Developing a palliative care pathway: An Innovative standard of care for people living with dementia and their care team | Riverside Center for Excellence in Aging and Lifelong Health | 7/1/2023 - 6/30/2026 | $30, 775 |
| Melissa Jamerson | Medical Laboratory Sciences | Commonwealth Transfusion Foundation 2023 Scholarship Grant | Commonwealth Transfusion Foundation | 10/1/2023 - 9/30/2024 | $108,000 |
| Melissa Jamerson | Medical Laboratory Sciences | Immunohematology Student Laboratory Session | Commonwealth Transfusion Foundation | 03/01/23 - 04/01/24 | $10,226 |
| Saleema Karim | Health Administration | How have rural hospitals' financial performance, operating performance, and scopes of service offered changed as a result of the COVID-19 pandemic | American Hospital Association | 02/16/23 - 02/15/24 | $99,968 |
| Sarah Marrs | Center on Aging | HEAR: Helping Elders Access Resources | Administration for Community Living (ACL) | 09/01/22 - 08/31/24 | $1,310,978 |
| Laura McClelland | Health Administration | IPA- Central Virginia VA health Care System (CVHCS) McGuire VA Medical | McGuire VA Medical Center | 11/01/23 - 12/31/24 | $87,734 |
| Jessica Mittler | Health Administration | SOM-20025557: A patient-centered map of gaps in the care of NASH | Health Administration sub/ with Internal Medicine - Gastroenterology | 08/14/22 - 08/13/25 | $45,208 |
| Rebecca Molinini | Physical Therapy | Exploring Emotional Availability During Parent-Child Interaction in Children with Developmental Delays | National Institute of Child Health and Human Development/NIH/DHHS | 08/01/21 - 07/31/24 | $85,988 |
| Courtney O'Hara | Center on Aging | Virginia Services, Training, Officers, Prosecution (VSTOP) | Virginia Department of Criminal Justice | 01/01/22 - 12/31/23 | $164,526 |
| Peter Pidcoe | Physical Therapy | iTREAT - Improved Treatment using Advanced Technologies | Commonwealth Health Research Board | 07/1/23 - 06/30/25 | $99,228 |
| Christine Reid | Rehabilitation Counseling | Rehabilitation Counseling Long-Term Training through Distance Learning or On-Campus Options, Including Telerehabilitation Expertise | Office of Special Education & Rehabilitative Services/Department of Education | 10/01/20 - 09/30/25 | $600,000 |
| Christine Reid | Rehabilitation Counseling | Vocational Rehabilitation Counseling Long-Term Training | Department of Education | 10/01/19 - 09/30/24 | $800,000 |
| Daniel Riddle | Physical Therapy | Social Determinants and Timelines of Total Knee Replacement: A National Perspective | Subaward w/ Northeastern University/ National Institutes of Health | 3/19/2021 - 10/31/2023 | $28,792 |
| Daniel Riddle | Physical Therapy | Duke Pain Early - phase Research Clinical Center (PERC) | Duke University | 09/15/19 - 03/31/24 | $59,212 |
| Daniel Riddle | Physical Therapy | Reconciling Good and Poor Outcome Findings from Appropriateness Classifications and Latent Growth Curves of Knee Arthroplasty Pain and Function: Determining the Best of Both Worlds | Pfizer Inc., U.S. Pharmaceuticals Group | 05/26/22 - 05/25/23 | $149,347 |
| Daniel Riddle | Physical Therapy | The SCEPTER Trail - IPA | Department of Veterans Affairs | 03/19/21 - 09/30/23 | $123,569 |
| Edward Syrett | Physical Therapy | IPA - Richmond VA | McGuire VA Medical Center | 5/1/2023 - 4/30/2025 | $3,750 |
| Paula Song | Health Administration | NC Medicaid 1115 Waiver Evaluation Implementation year 2 continuation award | University of North Carolina at Chapel Hill / NC Department of Health and Human Services | 07/01/21 - 06/30/23 | $212,677 |
| Christina Spence | Physical Therapy/ sub with School of Education | Workforce Ready: Supporting Community College Faculty to Prepare Scholars Serving Diverse Young Children with Disabilities | Sub with SOE Spec Ed and DP Department/ Department od Education | 10/1/23 - 9/30/28 | $180,873 |
| James Thomas | Physical Therapy | Virtual Immersive Gaming to Optimize Recovery in Low Back Pain | National Institute of Child Health and Human Development/NIH/DHHS | 11/01/18 - 11/30/23 | $2,313,283 |
| Christopher Wagner | Rehabilitation Counseling | Long-Term Training - Mental Illness | Office of Special Education & Rehabilitative Services/Department of Education | 10/01/19 - 09/30/24 | $600,000 |
| Bert Leland Waters | Center on Aging | Virginia Long Term Care Facility Network | Sub with Geriatrics / Virginia Department of Health | 07/01/22 - 06/31/24 | $333,023 |
| Bert Leland Waters | Center on Aging sub/ with Geriatrics | Geriatrics Workforce Enhancement Program (GWEP) | Health Resources and Services Administration/DHHS | 01/01/19 - 06/30/24 | $3,534,521 |
| E. Ayn Welleford | Gerontology | Statewide Gerontology, Individual Service and other Adult provider trainings LIC-22-007 Mod 2 | Virginia Department of Social Services | 09/09/21 - 06/30/23 | $406,844 |
| E. Ayn Welleford | Gerontology | Statewide Gerontology, Individual Service and other Adult provider trainings LIC-22-111 Mod 1 | Virginia Department of Social Services | 05/16/22 - 06/2023 | $249,992 |
| Kelsey White | Patient Counseling | Spiritual Care & Community Wellness | Rush University | 07/01/22 - 06/30/23 | $30,000 |
| Kelsey White | Patient Counseling | Spiritual Care Services in Acute Care Hospitals | Rush University | 05/01/23 - 04/30/25 | $50,000 |
| Kelsey White | Patient Counseling | Spiritual Care services in Pediatric Hospitals and Cancer Centers | Rush University | 06/01/23 - 05/31/25 | $50,000 |
| Faika Zanjani | Gerontology | VCU Richmond Brain Health Collaborative | Administration for Community Living/DHHS | 09/01/22 - 08/31/23 | $1,191,219 |