Taiwan health administration students come to Virginia to experience healthcare in America
How does the U.S. healthcare system compare to that of Taiwan?
Health administration students from Taiwan's Kaohsiung Medical University traveled to Virginia in March to find answers and experience the strengths and challenges of healthcare in America.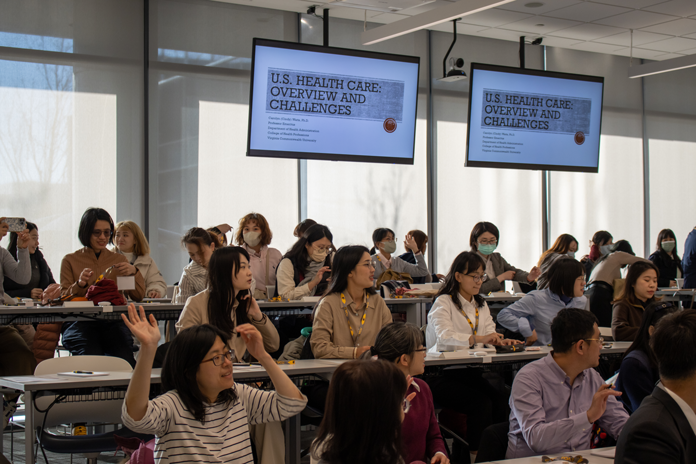 For more than two decades, VCU Health Administration has hosted students from KMU under a partnership that originated under the VCU department's former chair Thomas T.H. Wan, Ph.D., MHS. This year's visit was the first since the pandemic.
The tour was led by M. Paige Powell, Ph.D., MHA, VCU's MHA/MSHA program director and associate professor. Taking place over VCU's spring break, the KMU students spent nearly a week in Richmond, Williamsburg, and Charlottesville, where they toured medical facilities and met with a number of healthcare leaders across a range of specialties and professions.
"It's a highly valuable cultural exchange, where we each learn from one another," says Powell. "For our own faculty, and for me personally, I learned a lot about the Taiwanese system that I didn't know before, and it helped me learn more about our systems here in Virginia."
Taiwan has a single-payer system, with one government agency controlling healthcare for all. Enrollment is mandatory, though citizens can use private insurers for certain procedures and maintain autonomy within the system to choose their own doctors and facilities. Still, Taiwanese healthcare is not without its own challenges.
"But America spends about three times what the Taiwanese do on healthcare each year," said Powell.
The KMU students and faculty had a lot of interest and questions surrounding cost-effectiveness and quality of care, the latter widely viewed as a weakness in the country's healthcare system. "And they were impressed with the technology we have, and the amount of technology we have, but they also recognize that it is a high cost driver in our healthcare system," Powell said.
The week began with a welcome and introduction to the U.S. system and its challenges, and a look at healthcare IT. Students toured VCU Health, where they met Health Administration alumni and the system's chief operating officer Michael Elliott, Pharm.D., MSHA.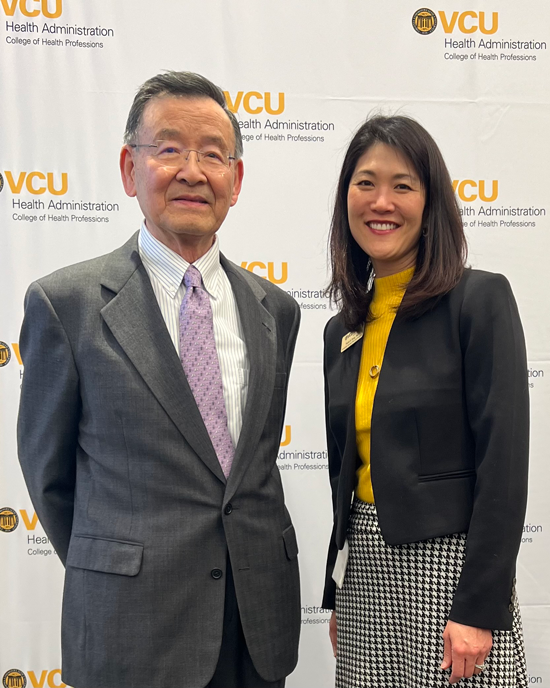 Paula H. Song, Ph.D., the Richard M. Bracken Chair and Professor of VCU Health Administration and incoming interim dean of the College of Health Professions, along with Thomas T.H. Wan, Ph.D., MHS, former VCU Health Administration chair and professor emeritus. Wan, also a professor emeritus of the School of Global Health Management and Informatics at the University of Central Florida (UCF), is a visiting distinguished professor at Kaohsiung Medical University in Kaohsiung, Taiwan and helped bring the students to Virginia for the 22nd year.
Students visited Sentara Williamsburg Regional Medical Center and, while there, heard from Louis F. Rossiter, Ph.D., the former Virginia Secretary of Health and Human Resources who is today on faculty teaching health economics at The College of William & Mary. They met the hospital's vice president and chief medical officer, Dr. Christopher Culp and Chinese physicians practicing in the U.S., and visited Sentara Martha Jefferson Hospital in Charlottesville (and fit in a Monticello trip). Later in the week, they toured the Central Virginia VA Health Care System where Executive Director Ron Johnson, MHA, FACHE, shared information about caring for the nation's veterans, HCA's Johnston-Willis Hospital where they met with new CEO Beth Matish, and stopped by the Richmond Ambulance Authority, led by Chip Decker.
The KMU-VCU relationship started under Wan, who served as Health Administration chair from 1990 to1999 and was on faculty from 1981 to 2003. A professor emeritus of both VCU and the University of Central Florida's School of Global Health Management and Informatics, Wan came to Richmond for the KMU visit and held a workshop with the students, Predictive Analytics Under a Transdisciplinary Framework in Promoting Patient Centric Care Management of Polychronic Conditions Among the Elderly. Wan is also a visiting distinguished professor of KMU's Department of Healthcare Administration and Medical Informatics, and a gift to VCU from the university helps support doctoral students.
And you don't travel halfway around the world without making time for some fun: students enjoyed shopping at Williamsburg's outlets, ate Bottoms Up Pizza in Richmond's Shockoe Bottom, and closed their trip with a reception and karaoke party at the College of Health Professions.
"This year's workshop holds particular significance for us as it marks KMU's return to VCU after the pandemic, making it a truly unique and memorable experience for our students to learn, visit healthcare systems, and witness various aspects in person," wrote I-Te (Yiter) Chen, chair of KMU's Department of Healthcare Administration and Medical Informatics, in an email to VCU faculty after the visit. "We extend our heartfelt appreciation and thank you for making this workshop a success and look forward to a continued collaboration between KMU and VCU."