VCU Health Administration Faculty Member Earns Fellowship Designation from Healthcare Financial Management Association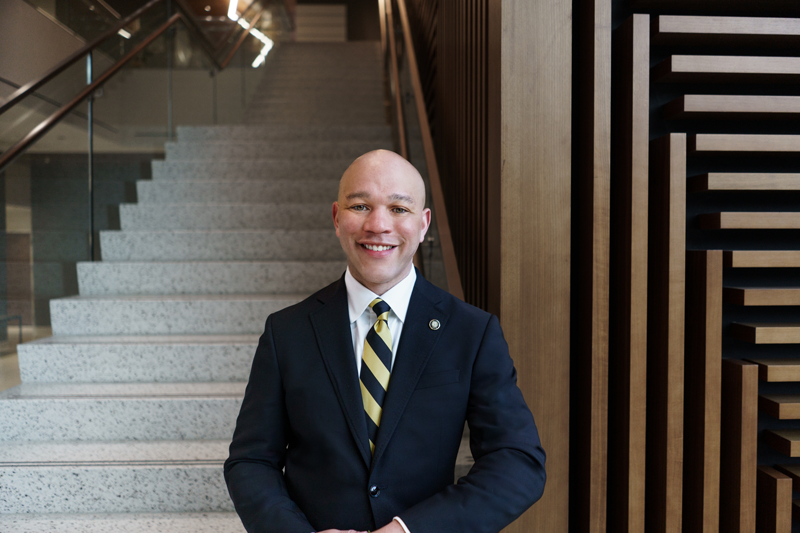 Stephan Davis, DNP, MHSA, FACHE, FNAP, FHFMA, executive director of inclusive leadership education and assistant professor in VCU's Department of Health Administration and assistant dean of diversity, equity, and inclusion for the College of Health Professions, has been named a fellow of the Healthcare Financial Management Association (HFMA).
"Finance is one of the pillars of excellence for the department of health administration at VCU" said Paula Song, PhD., Richard M. Bracken chair and professor of Health Administration. "With three healthcare finance researchers in our department, Drs. Nathan Carroll, Saleema Karim and myself, combined with Dr. Davis' leadership experience overseeing utilization and his achievement of this important professional distinction, we are uniquely positioned to expose our students to both the theory and application of healthcare finance and how business decisions impact care coordination and patient outcomes. We are thrilled to congratulate Dr. Davis on his third national fellowship and look forward to his continued work to guide our students and alums in pursuit of board certifications and national fellowships."
To be awarded the FHFMA distinction, applicants must be credentialed as a Certified Healthcare Financial Professional (CHFP); be an HFMA member for at least five years; meet academic and continuing education requirements; be recommended by an HFMA fellow or healthcare association leader; and demonstrate substantive contributions to HFMA and the field of healthcare management. More than 1,700 HFMA members nationwide have achieved this accomplishment in the organization's 75-year history.
While many know Davis for his current work to advance diversity, equity, and inclusion, the beginning of his healthcare leadership journey included more than a half-decade overseeing utilization management and case management for health insurance companies and a safety-net hospital in New York City. These areas are key to revenue cycle and value-based purchasing.
"Leading nurses, physician advisors, physical therapists, social workers, and other clinical professionals and support staff in the coordination of healthcare services – ensuring access to high quality medically necessary care while also promoting efficiency and reducing costs, was such an important part of my development as a healthcare executive" Davis said. "I tell our MHA students that no matter what area of healthcare leadership they choose to pursue, a solid foundation in quality and revenue cycle is so important for all aspiring executives."
In addition to being a fellow of HFMA, Davis was named a distinguished scholar and fellow of the National Academies of Practice earlier this year. He is also a fellow and national faculty member with the American College of Healthcare Executives. Beyond fellowships, he holds several board certifications including Nurse Executive, Advanced-Board Certified (NEA-BC) through the American Nurses Credentialing Center, Certified in Executive Nursing Practice (CENP) through the American Organization for Nursing Leadership, Certified Professional in Healthcare Quality (CPHQ) through the National Association for Healthcare Quality, and Certified Nurse Educator (CNE) through the National League for Nursing. He is a passionate champion for increasing the numbers of healthcare leaders from historically underrepresented and excluded backgrounds holding national fellowships, prestigious awards, and advanced academic and professional credentials.
The VCU Department of Health Administration is a premiere research department geared toward creating the most innovative, compassionate, and business-savvy leaders to reimagine healthcare. For more, visit here.
About HFMA
The Healthcare Financial Management Association (HFMA) equips its more than 83,000 members nationwide to navigate a complex healthcare landscape. Finance professionals in the full range of work settings, including hospitals, health systems, physician practices and health plans, trust HFMA to provide the guidance and tools to help them lead their organizations, and the industry, forward. HFMA is a not-for-profit, nonpartisan organization that advances healthcare by collaborating with other key stakeholders to address industry challenges and providing guidance, education, practical tools and solutions, and thought leadership.